Not Just Your Average Snack
When you're ready for more than the same-old-same snack time, Saint Coxinha is here for you!
We offer the foodie a fresh take on snack time (and breakfast time, brunch, lunch, dinner or afternoon tea) because our authentic, savory, unique, delectable coxinha can be ready in no time!

Whether you're planning a party, catering an event, ordering for a restaurant, or simply planning your own family dinner -- Saint Coxinha has your back!
We have a passion for bringing people together, and nothing makes great memories like great food! We love hearing stories from friends and families who have shared great moments with the people they love while enjoying our favorite food.
Watch this video to learn how ours became the first coxinha in the USA to receive the seal of approval from the USDA.
Brazilian Tradition, From Our Family to Yours
We use only the finest and most carefully selected ingredients for products that will both surprise and delight you with every single bite.
Our Coxinhas are authentic, like no other. Brazilian culinary traditions span centuries, and Saint Coxinha wants to share the flavors of Brazilian culture with you!
Unforgettable Flavors
Brighten up your weekly menu with an appetizer that only takes 10 minutes to prepare and has an unforgettable flavor that will instantly become a fan-favorite in your home, office or restaurant.
Buy Now!
Coming To a Store Near You!
We have a goal to introduce caterers, grocery stores and restaurants to Brazil's favorite food! Our authentic Brazilian snack, Coxinha (which is the Brazilian way of saying 'chicken croquette'), is a perfect step toward that goal!

As the first coxinha manufacturing company to receive the USDA (United States department of agriculture) seal of approval, we are proud to bring restaurants and grocery stores this scrumptious snack, which is sure to keep customers coming back again and again.
We lovingly make our coxinha with a savory proprietary dough shaped into a teardrop drumstick and formed around a creamy, flavorful, chicken filling full of authentic Brazilian flavor. We cover each one with our own delicious and authentic batter, then we fry them to perfection.

Take one bite out of these golden nuggets, and you won't be able to resist eating an entire plate.
You simply won't be able to stop with just one, because our recipe will leave you in love from the very first bite!
Barbara Bueno - Our Chef
As Brazilians who love Brazilian food,  it brings us great pride and gratitude to be able to share our culture and flavors with the American South East. A friendly tip: you can call our product by its name - Coxinha (Co-Sheen-Ya), or you can just just say "chicken croquette"!
You may be asking yourself, "why are you called Saint Coxinha?" Well, it's pretty simple. We believe that all food is holy, and that it should taste that way too! Chef Bueno's family recipe, passed down from generation to generation, is our secret to making products that anyone and everyone can fall in love with after the first bite. If you're ready for your customers to experience an authentic Brazilian cuisine, contact us today!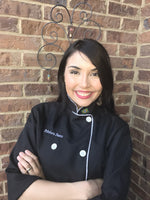 We Want Your Feedback!
Meeting people who want to share the love brings us joy! Having our products at events, at home, parties, restaurants or food trucks, or just on the table as an after-school snack makes us feel like our goal of sharing our love of great food and Brazilian culture with the world is possible! If you've experienced Saint Coxinha products, we want to know!

Drop us a line, give us a call or email us to share your story.
Saint Coxinha, LLC
Lexington, SC USA
Tel: (404) 538-5366 (text or call)
contact@saintcoxinha.com - Falamos Português